[ad_1]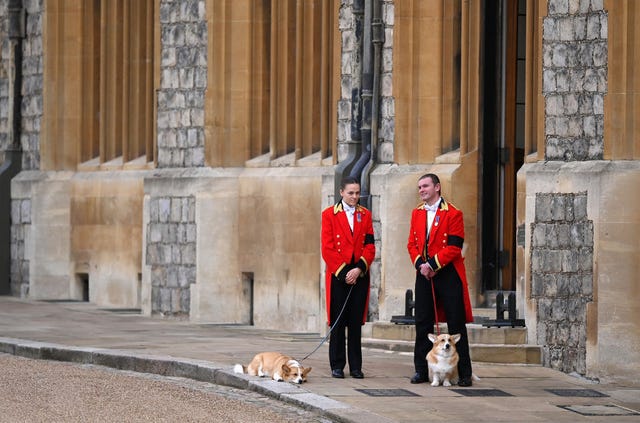 Justin SetterfieldGetty Images
Her Majesty, Queen Elizabeth II's beloved pony and dogs have made an appearance outside Windsor Castle to pay their respects on the day of her funeral.
In an emotional scene, Emma the pony was pictured standing in the grounds of Windsor Castle watching her owner's coffin go by during the final part of Queen Elizabeth's funeral procession on Monday (19 September).
Her Majesty owned several horses – some for racing and some kept as pets for riding around the grounds of her properties – but Emma, ​​a 24-year-old Fell pony, is said to have been her favourite.
The Queen's beloved pet corgis, Sandy and Muick, were also photographed sitting in the forecourt of Windsor Castle with their handlers. The pets were brought out to meet the cortege ahead of Monday's committal service at St George's Chapel in Windsor.
This content is imported from Twitter. You may be able to find the same content in another format, or you may be able to find more information, at their web site.
Along with Sandy and Muick, Queen Elizabeth leaves behind one cocker spaniel called Lizzie, and a dorgi – a cross between a dachshund and a corgi – named Candy.
At 13-years-old, Candy is the oldest of the royal dogs, while Lizzie is reported to have joined the palace in January 2022.
Over her lifetime, Queen Elizabeth owned a total of around 30 corgis, as well as spaniels, labradors and other breeds. But corgis are the breed she has become most associated with.
At seven years old, she is said to have begged her father, King George VI, for the family's first corgi, Dookie.
The remaining pair of corgis, Muick and Sandy, were gifts from the Duke of York and his daughters Princess Beatrice and Princess Eugenie.
Following Her Majesty's death, the dogs will be cared for by Prince Andrew and his former wife, Sarah, Duchess of York.
---
[ad_2]

Source link